Global statistics

The statistics page is accessible as soon as the campaign is sent. It stabilizes once the campaign is over, between 2 and 4 days after the sending. It allows you to follow the evolution of your campaign in real time.
Presented in the form of a graph, it gives you information on :
the number of emails sent and its rate.
the number of successful emails (emails that reach your recipients)
numbers and opening rates

total: number of total openings made by the recipients they can be multiple for a recipient.
unique : number of recipients who opened the message, 1 unique opening is counted even if he opened the message several times
the number and rate of clicks:

total: total number of clicks made by the recipient.
unique: number of clickers (recipients having clicked, 1 click is only counted even if they clicked several times on the message)
The number and rate of NPAI: number of emails that did not reach their recipients.
Number and rate of unsubscribes: number of people who have unsubscribed from your list.
Note
Opening rate: As soon as the campaign is sent, opening and click rates can be recorded. These correspond to the openings made during the tests or the proofs. It is necessary to wait about 15 minutes to have a reliable opening rate corresponding to reality.
NPAI rate: By default at the beginning of the campaign, the NPAI rate is equal to zero but it increases over time. When an email cannot be delivered, the servers insist and try to resend it up to 5 times. This is why your NPAI rate can increase several hours after your campaign has started.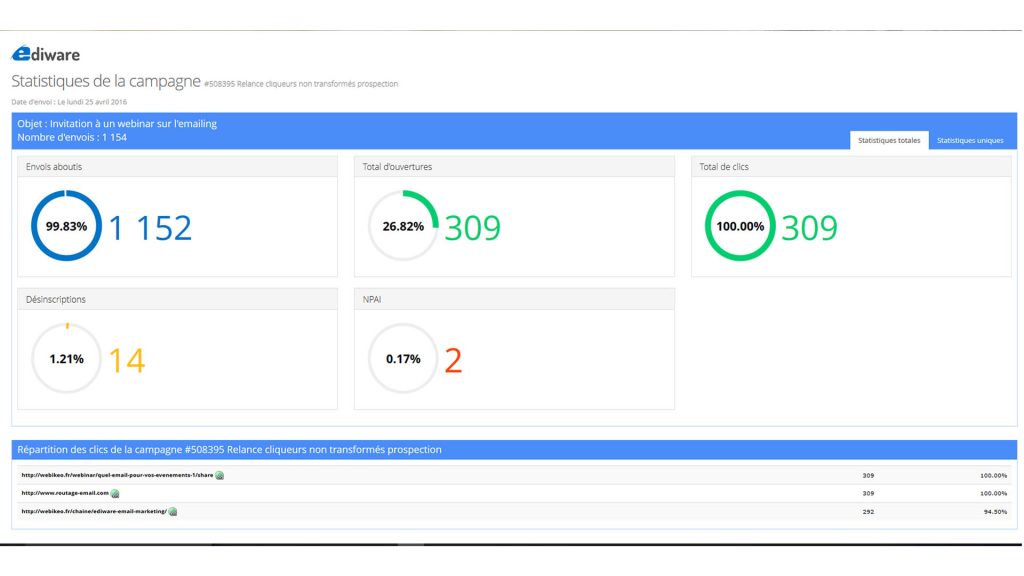 Statistics by domain

The statistics by domain allow you to see if your campaign has not encountered any particular problem with an ISP.
Indeed, if you have a large number of sendings but only a few are successful, it probably means that the ISP has blocked your messages.
This post is also available in:

Français (French)